Site Introduction | Art Gallery Index | View Pictures

Nude
Fisherboys
Jean-Baptiste Carpeaux
(1827-1875)
Neapolitan Fisherboy, Girl with Shell,
and Other Works
Carpeaux's Fisherboy is featured in my adult story "On Display".
Do not follow this link if you find sexual content offensive.
Three biographical notes: Note 1 | Note 2 | Note 3

View Pictures

Biographical Note 1
Jean-Baptiste Carpeaux
Born May 11, 1827, Valenciennes, France - Died Oct. 12, 1875, Courbevoie
The son of a bricklayer, Jean-Baptiste Carpeaux arrived in Paris in 1838 and worked as a messenger while studying at the free Petite École. Ten years later he entered the École des Beaux-Arts, where he studied with the Romantic sculptor François Rude. He won the Prix de Rome in 1854 and traveled to Italy, where he copied antique statues and was greatly influenced by Michelangelo and other Renaissance sculptors. By emphasizing extreme emotional and physical states in contrast to the calm, classical composure encouraged by the Académie, Carpeaux's Ugolino of 1860 broke with prevailing formulas and laid the foundation for his reputation as the leading sculptor of the day.

Returning to Paris in 1862, Carpeaux executed numerous portrait busts and became the favored portrait sculptor of Napoleon III and his court. His sensitive portraits combined anatomical and psychological realism with a lyricism reflecting the Rococo revival that permeated much of the period's sculpture. His use of deep shadow and emphasis on chiaroscuro influenced later sculptors, including Auguste Rodin. Carpeaux also worked as a painter.

--From the Getty Collections at:
http://www.getty.edu/art/collection/artists/651/jean-baptiste-carpeaux-french-1827-1875/
Also called JULES CARPEAUX, the leading French sculptor of his time. His works, expressing a rhythm and variety that were in opposition to contemporary French academic sculpture, form a prelude to the sculpture of Auguste Rodin.

For some time Carpeaux was a student of the prominent French sculptor François Rude. Winning the 1854 Rome Prize enabled him to live at Rome (1854-61), where he was influenced by the works of such Italian Renaissance sculptors as Michelangelo, Donatello, and Verrocchio. He established his reputation with "Ugolino and His Sons" (1861), a dramatic bronze for the Tuileries Gardens, Paris, and won favour at the court of Napoleon III, receiving many commissions for portrait busts. His most famous work, "The Dance" (completed 1869), a sculptural group for the façade of the Paris Opéra, created a sensation and was attacked as immoral. His works were frequently the subject of hostile criticism, and in his last years he suffered from fears of persecution.

--from Britannica.com (link no longer available)
Carpeaux, Jean-Baptiste
zhäN-bätst kärpo, 1827-75, French sculptor and painter. He studied with François Rude and won the Prix de Rome. Carpeaux rose to fame with his Ugolino (1860-62; Louvre) and became a favorite of the Second Empire, receiving many portrait commissions. Of his sculpture groups, the best known is The Dance on the facade of the Opéra, Paris. His Neapolitan Shell-Fisher and his portrait busts of Napoleon III, Dumas fils, Gérôme, and Empress Eugenie are in the Louvre, along with numerous paintings, including Bal costumé aux Tuileries, Les Trois Souverains, and several portraits.
--from Encyclopedia.com; article moved to http://www.encyclopedia.com/doc/1E1-Carpeaux.html
Carpeaux's Neapolitan Fisherboy
and Girl with Shell
These images all link to bigger versions,
although often not as big as I'd like.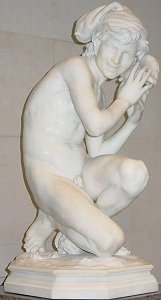 Carpeaux's statue of a naked fisherboy putting a shell to his ear to hear the sea was partially inspired by his master François Rude's Fisherboy, and became popular in both marble and bronze editions. The plaster version (bottom [sic!] right) shows a rare back view.



Another plaster version (left) can now be seen in the Louvre, back to back with Rude's marble Fisherboy.

The success of the Fisherboy led Carpeaux to produce an accompanying statue of a girl playing with a shell, seen here in both black and white and colour pictures, next to a matching colour view of the boy.

The weathered stone version of the girl, at right, seems to have been kept in a garden, and some years ago was sold at auction for GB£25,000 in spite of its discolouration.



The original figures' total nudity was regarded as indecent by some critics, and so Carpeaux produced versions in which fishing nets were draped across the girl's and boy's laps. Here are two bronze reproductions of each.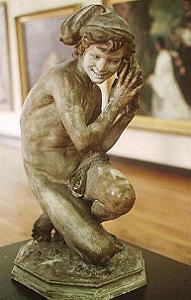 Four more draped reproductions of the boy. Left to right: darkly patinated bronze; plaster; and two terracotta versions.



Two black and white views of the girl from Art Historian Lee Sandstead's site, and two views of a draped bronze copy at Anzin, Nord-Pas-de-Calais.
Other Works by Carpeaux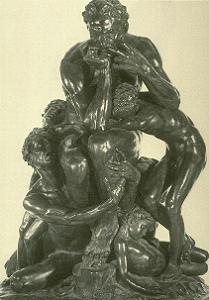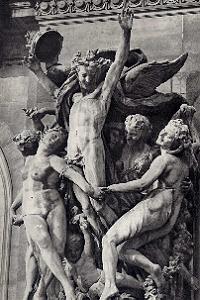 Ugolino and His Sons (left) is a harrowing study in anguish and despair that ranks alongside the ancient Laocoön Group in its emotional intensity. Follow this external link and this one for two entire pages analysing the group (Wayback Machine cached versions, all images present).

By contrast, the unbridled sensuality of The Dance (centre), sculpted for the Paris Opera House, was considered shocking in its day. Spirit of the Dance (right) isolates the central figure and the small Cupid or Bacchante at his feet.
And finally...



Reflection on Carpeaux:
a statue-like nude model overlaid on a photo of Carpeaux's Dance.
Comment on this page
Site Introduction | Art Gallery Index | Return to Top of Page