The Strange Fate
of the Statue Maker
Mad scientist Luther Benedict invents a machine that turns flesh and blood to stone.
So what does he do with it? I'll give you one guess.
Unfortunately, things don't quite work out the way he plans...

I have now acquired complete black and white and colour versions of this story. The black and white art is taken from on-line scans of the original artwork, except for page 5 which is a comic page scan supplied by Taral Wayne, cleaned up and partly re-lettered for clarity. The colour art is taken from on-line comic page scans and demonstrates the cheap comic printing of the day. A reprint with different colouring has also been posted on-line, but I haven't included it here because of its inferior reproduction.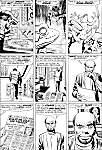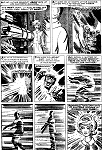 Return to Top of Page