Site Introduction | Art Gallery Index | View Pictures
Antoine-Denis Chaudet
(1763-1810)
Cupid and the Butterfly
Views of the original marble and bronze reproductions
Chaudet's Cupid is featured in my adult story "On Display"
Do not follow this link if you find sexual content offensive.
Antoine-Denis Chaudet is probably best known for his statue of Cupid, now in the Louvre. His other works include the column in the Place Vendôme, Paris, and his busts of Napoleon and the Empress Josephine.
Chaudet exhibited a plaster model of his Cupid at the Paris Salon of 1802. The sculptor died in 1810, and it was not until 1817 that the life-size marble statue was completed from the original model by Pierre Cartellier. The butterfly may represent the human soul tormented by love. Alternatively it may represent Cupid's mortal lover Psyche who had to face many trials before winning his hand and being accepted by the gods ('psyche' is Greek for both 'butterfly' and 'soul'.)
Below: several views of the original statue. Most pictures show it from the left side in order to display Cupid's graceful pose. Many thanks to Anonymous Benefactor for supplying some additional poses.
Other image sources (French Language)

Louvre Database
Click on thumbnail and additional links at bottom left to view images as pop-ups
Insecula
Mostly back views, but who's complaining?


During the 19th and early 20th Centuries many works of sculpture were reproduced in bronze by European, especially French, foundries. Here we see four very good reproductions of Chaudet's statue (note the fine detailing of the hair and feathers), three darkly patinated and one in gilt bronze, probably dating from the mid-19th Century. The third and fourth pictures also link to very big (160k) versions.
Finally, here's a montage showing a copy that was recently auctioned by Nickleby's, with an appraisal value of US$12,000. Unfortunately I can't find any reference to the final sale price. The top left hand image appears to show that a genital drape has been added to this version (a not uncommon feature of bronze reproductions; see also this site's Jean-Alexandre Falguiere and Jean-Baptiste Carpeaux pages). The drape is not visible in the top right hand image, which shows the same view as the other bronze versions on this page, so it is entirely possible that they all have similar drapes.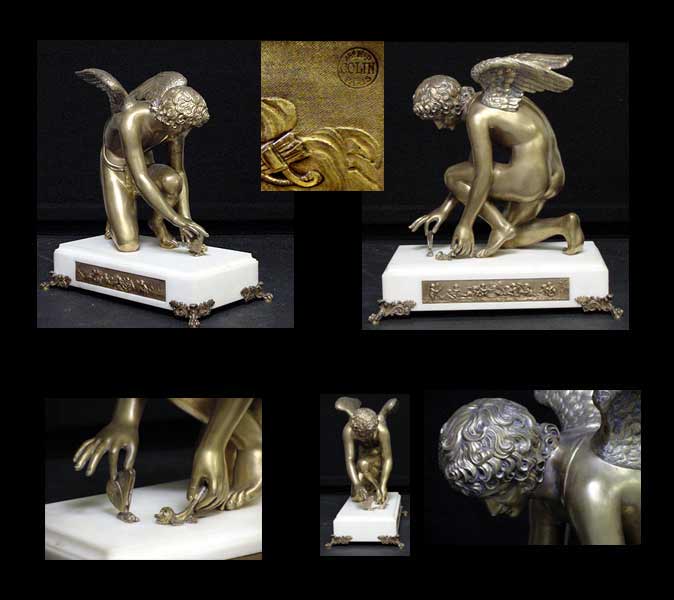 It has been plausibly suggested that Chaudet's Cupid, or at least his pose, inspired at least two other works: Jean Léon Gérôme's painting Le Combat de Coq (The Cockfight) and Sophie-Victoire Debry's statue Cockfight.
Comment on this page
Site Introduction | Art Gallery Index | Return to Top of Page